Neil Johnson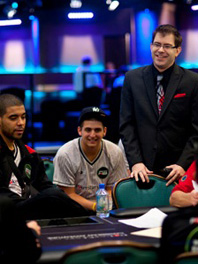 Neil Johnson hails from Puyallup, Washington and has played poker since his family discovered he was willing to risk his allowance. Neil first visited Las Vegas on his 21st birthday and by the late 90's was a regular at the $20 daily tournaments at the Orleans. An injury forced him out of a career in publishing (a continuing passion) so he pivoted and tried his hand at acting. Neil won a few awards in theatre but it didn't pay the mortgage. While rehearsing for a new play, he won $1,000 in two weeks at the Muckleshoot Casino in Washington and then gave it back playing $4/$8 Limit Holdem, Omaha and Stud-8. Meanwhile he saw the best poker dealers making some good money and in need of a new career he learned how to shuffle and pitch!
Neil started dealing poker at a small 4-table room and was soon working seven nights at five different rooms and loving it. A series of fortunate encounters took him to the international tournament circuit, starting with a referral to Linda Johnson and Jan Fisher of CardPlayer Cruises. From there Neil met Matt Savage and Thomas Kremser who helped him find work on four continents for virtually every poker acronym and online site. Thanks to Scott Wilson, in 2006 he moved to Costa Rica to manage the Poker Room of Paradise Poker. Neil sold his house, put everything in storage and just days before moving, five letters put a bad beat on the new job: U-I-G-E-A.
Over the next two years, Neil returned to the international circuit with the Live Events team of PokerStars where he worked on tournament management, commercial filming, and special events. In 2008, with the help of Marta Norton, Isai Scheinberg and John Duthie, Neil became European Poker Tour Event Host and Player Liaison, roles pioneered by Lee Jones. As Event Host, Neil brought new game types to the live scene and revolutionized the tournament schedules of the EPT and PCA. He also worked to unify tournament rules across the EPT, PCA, APPT, LAPT and NAPT circuits as well as all PokerStars National Tours. Over his 9 year tenure Neil rose to Head of Live Poker Operations for PokerStars. His incredibly talented team ensured that the highest standards were maintained across all PokerStars sponsored events. In 2018 Neil left PokerStars and formed NDJ Enterprises to consult for numerous clients to improve player and staff experience.
Neil has always supported fair and consistent poker tournament rules. From his unique global vantage point, Neil has seen the challenges facing players and staff when rules change from venue to venue. Working with all the capable Tournament Directors at PokerStars sharpened his resolve to help standardize the rules. Neil first attended the 2009 TDA Summit and found like-minded professionals working together to create uniform rules to make the game we all love even better. The TDA mission of consistent global poker tournament rules benefits both players and tournament management. Neil looks forward to working closely with the members of this unique organization to come up with the right answers every time someone says "Floor".
You can follow Neil on Twitter (@NeilJPoker).